(Foto: Archive Perraud)
Born 03.04.1890 Feltre, priest 18.07.1913, nominated Tit.-Archbishop of Traianopolis and Apost. Delegate in China 28.11.1933, nominated Ordinarius of Harbin 28.11.1933, consecrated 07.01.1934 in Rome, consecrator Cardinal Fumasoni-Biondi [1], retired 1946, nominated Apostolic Nuncio to Chile 21.03.1947, nominated Apostolic Nuncio to Argentina 07.02.1953, died 04.08.1958 Buenos Aires [2]
Zanoli, Eustachio Vito Modesto
(Foto: Archive Perraud)
Born 19.05.1831 Marbirazzo (Modena), member of O.F.M. 1847, priest 19.2.1854, nominated Tit.-Bishop of Eleutheropolis and Coadjutor of Hu-Pè 15.09.1861, consecrated 15.09.1861 in Outchangfou, consecrator Mons. Spelta, nominated Apostolic Vicar of Hu-Pè 01.09.1862, nominated Apostolic Vicar of Hu-Pè Orientale 02.09.1870, additional Apost. Administrator of Hu-Pè Occiduo-Settentrionale 1871-76, died 17.05.1883 Outchangfou [3]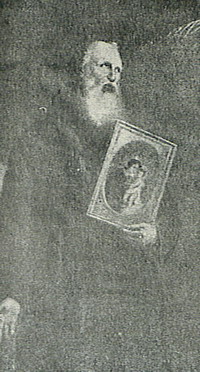 (Foto: Archive Perraud)
Born 04.02.1726 Norma/Italy, member of O.F.M., priest 21.09.1748, nominated Tit.-Bishop of Magidense and Apostolic Vicar of Chansi-Chensi 03.04.1787, consecrated 12.04.1789 in Peking, consecrator Mons. Gouvea, died 16.04.1790 Chao-kia-ling (Luanfu) [4]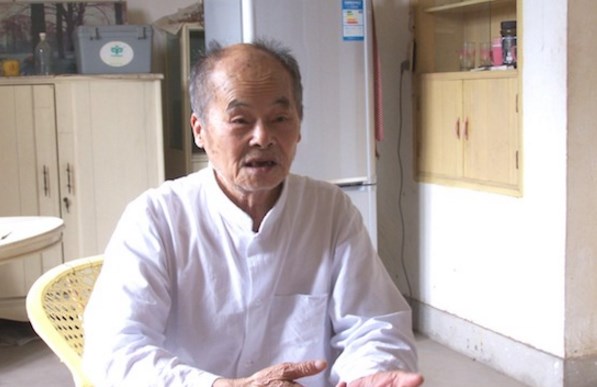 (Foto: UCANEWS)
Born 23.07.1919 or 1920 Zengjiacun, priest 25.03.1949, Bishop of Yujiang, consecrated 07. or 13. or 17.01.1990, consecrator Xie Shiguang, spent 23 years in prison, member of O.P. 2000, retired April 2014, died 02.04.2016 Fuzhou [5]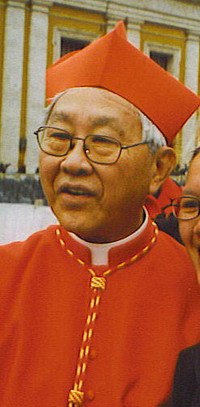 (Fotos: Brender)
Born 13.01.1932 Shanghai, member of S.D.B., priest 11.02.1961, nominated Coadjutor of Hongkong 13.09.1996, consecrated 09.12.1996 in Hongkong, consecrator Cardinal Wu Cheng-chung, nominated Bishop of Hongkong 23.09.2002, created cardinal priest of Santa Maria Madre del Redentore a Tor Bella Monaca 24.3.2006, emeritus 15.04.2009 [6]
(Foto: UCANEWS)
Born 13.03.1961, priest 24.06.1989, Aux.-Bishop of Mindong, consecrated 06.01.2000 without papal approval in Peking, consecrator Joseph Liu Yuanren, nominated Bishop of Mindong without papal approval 05.08.2005, 22.09.2018 recognized by the Holy See [7]
Born 23.03.1881 Hankow, priest 19.12.1908, nominated Apostolic Prefect of Puchi 16.04.1929, died 20.04.1941[8]
Zhang Bairen, see Zhang Boren
Zhang Bide (Chang Pi-te), John
Born 12.01.1893 Siaoying (Chentingfu), priest 22.12.1917, nominated Apostolic Prefect of Chaohsien 09.04.1929, nominated Tit.-Bishop of Antipirgo and Apostolic Vicar of Chaohsien 11.01.1932, consecrated 24.04.1932 in Pianzun, consecrator Mons. Schraven, nominated Bishop of Chaohsien 11.04.1946, emeritus 13.02.1953, nominated Tit.-Bishop of Panemotico 13.02.1953, died 12.11.1966 [9]
Zhang Boren (Zhang Bairen, Chang Bairen), Peter
Born 14.01.1914 or 14.02.1915 Zhangjiazhuang village, Xiantao city, priest 19.12.1942, Bishop of Hanyang, consecrated 03.03.1986, consecrator Lu Zhensheng or Liu Hede, died 12.10.2005 Peking [10]
Born (unknown date), priest, Bishop of Sipin, consecrated 20.04.1981, died 1985 [11]
Born 18.10.1915, priest 11.06.1942, Bishop of Wuhu, consecrated 09.05. or 27.05.1990 in Peking, consecrator Joseph Zhong Huai-de, died 06.05.1994 [12]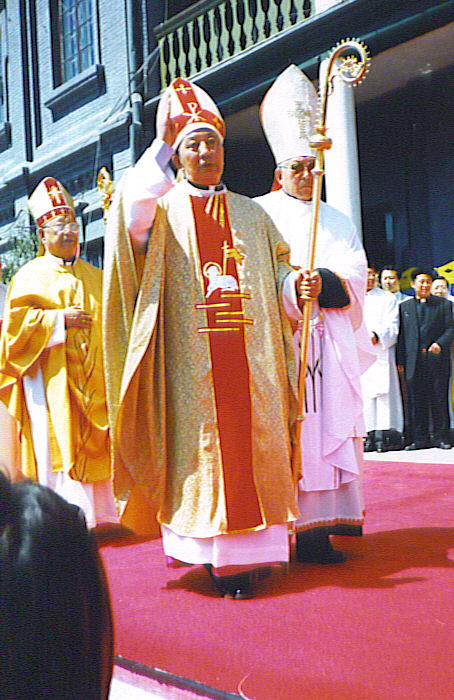 (Foto: sent by Bishop to Dr. Kierein)
Born 15.01.1924 or 07.02.1927 Xiaobajia village /Jilin, priest 24.03.1983, Administrator of Jilin 17.09.1995, Bishop of Jilin 1997, consecrated 09.05.1999 in Jilin, consecrator Pius Jin Peixian, died 19.07.2009 Changchun [13]
(Foto: UCANEWS)
Born 23.05.1925 Liangbudaying/Anyang, priest 19.10.1950, 1958-80 in labor camps, Bishop of Anyang, consecrated 19.10.1981, consecrator Jia Zhiguo, died 08.05.2016 Anyang [14]

Born 1913, priest, Bishop of Liaoning 1987, consecrated 16.10.1988 in Peking, consecrator Joseph Zhong Huai-de, died April or May1989 [15]
Zhang Jia-shu (Chang Kia Shu), Louis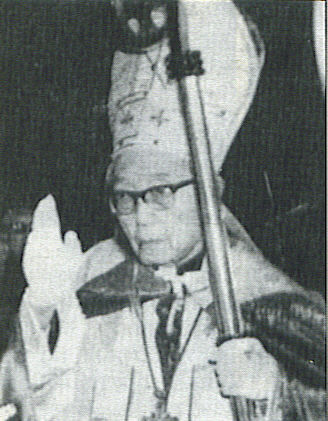 (Foto: Archive Perraud)
Born 1891 or 30.06.1893, member of S.J., priest 1923, Bishop of Shanghai 1959, consecrated 26.04.1960 in Shanghai, consecrator Mons. Ignatius Pi Shu-shi, died 25.02.1988 Shanghai [16]
Born 21.10.1918 Dongchen/Suanhwa, priest 17.03.1945, Bishop of Xuanhua, consecrated 03.10. or 30.10.1989 in Baoding, consecrator Peter Liu Guandong, died 12.12.1999 [17]
Zhang Kexing (Chang K'o-hing), Melchior
Born 06.01.1914 Siwantze, priest 18.03.1939, nominated Tit.-Bishop of Clipia and Coadjutor of Siwantze 03.11.1949, consecrated 24.05.1951 in Kalgan, consecrator Mons. De Smedt, nominated Bishop of Siwantze 16.11.1951, died 06.11.1988 Suanwha [18]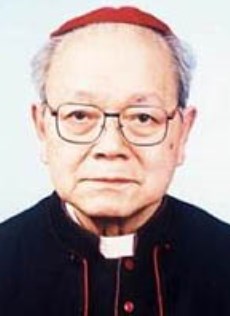 (Foto: UCANEWS)
Born 26.10.1917 Jingmen City/Yichang, member of O.F.M. 1938, priest 16.04.1944, Bishop of Yichang, consecrated 15.08.1959, consecrator Bernardin Dong Guang-qing, died 24.07.2005 Yichang [19]
Born 24.09.1956, priest 28.11.1985, Aux.-Bishop of Yixian 1992, consecrated 14.05.1992, consecrator Peter Liu Guandong, retired [20]
Born (unknown date), priest, Bishop of Yentai, consecrated 30.04.1960 in Yentai, consecrator Mons. Ignatius Pi Shu-shi, died (unknown date) [21]
Zhang Runbo (Chang Yuin-po), Joseph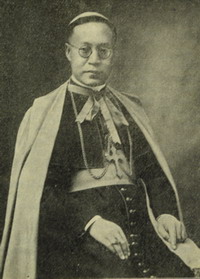 (Foto: Archive Perraud)
Born 05.04.1899 Chwangchow (Peking), priest 22.12.1922, nominated Tit.-Bishop of Tadamata and Apostolic Vicar of Suanhwa 07.07.1936, consecrated 28.10.1936 in Rome, consecrator Cardinal Cremonesi [22], nominated Bishop of Suanhwa 11.04.1946, emeritus 20.11.1947, nominated Tit.-Bishop of Cinopoli in Arcadia 20.11.1947, died 10.08.1949 Hongkong [23]
Born 11.11.1916 Zhangzhuang/Xingtai, priest 1947, Administrator of Funing 1958-1985, Bishop of Mindong, consecrated 30.11.1986 in Peking, consecrator Joseph Zhong Huai-de, died 05.08.2005 Zhangzhuang/Xingtai [24]
Born 19.09.1968, priest 1997, Bishop of Shanghai (not legally), consecrated 28.12.1999, consecrator Anthony Zong Changfeng, Vatican does not recognize his episcopal identity [25]
Born 1958, priest 1985, Bishop of Xianxian [26], consecrated 27.10.1991, consecrator John Wang Ruohan [26a]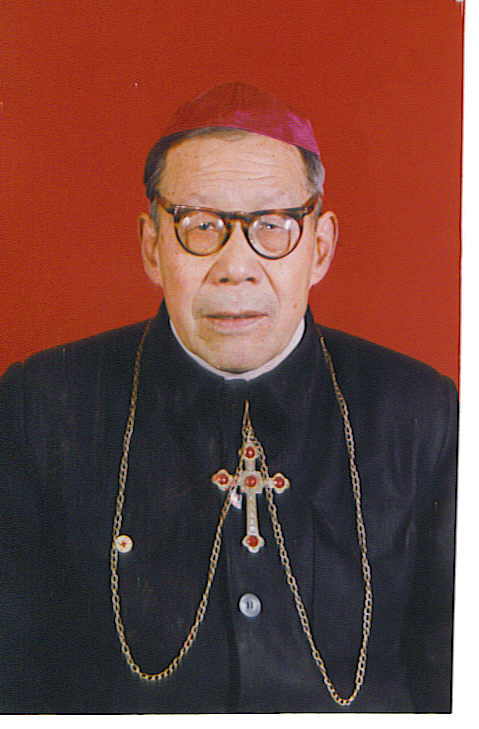 (Foto: sent by Bishop to Dr. Kierein)
Born 1913 or 30.05.1915, priest 1943, nominated Administrator of Tungchow 1952, Bishop of Weinan 1981, consecrated 24.07.1981 in Peking, consecrator Joseph Zhong Huai-de, resigned 2000, died 24.12.2002 [27]
(Foto: katholisches.info)
Born 1920 Shiling Yi county, priest 1946, 1958-82 in prison and labor camps, Apost. Administrator of diocese Kunming, diocese Dali and Apost. Prefecture Zhaotong 2000, died 05.02.2012 Shiling Yi County [28]
(Foto: UCANEWS)
Born 12.01.1965 Pingyang, priest 00.12.1990, Coadjutor of Jinan 2002, consecrated 29.04.2004 in Hongjialou, consecrator James Zhao Zi-ping, nominated Archbishop of Jinan 19.05.2008 [29]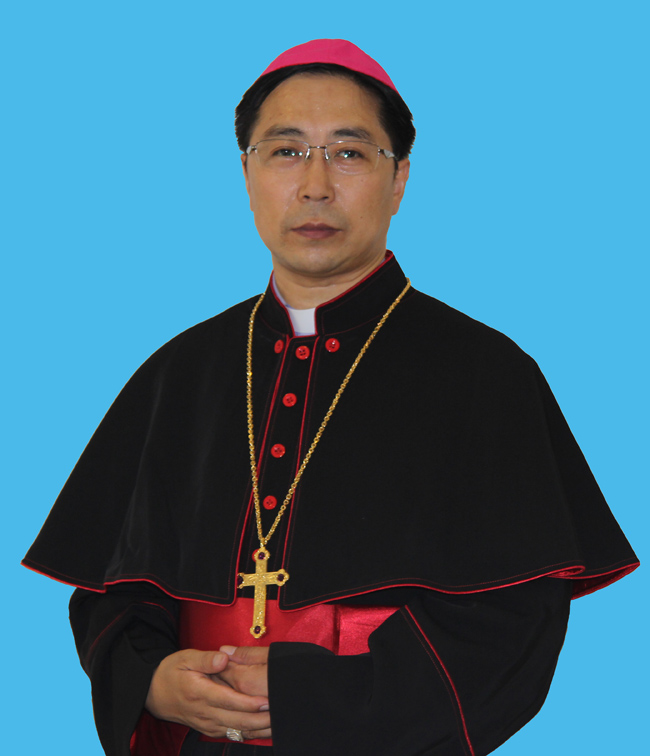 (Foto: asianews)
Born 27.03.1971 Linzhou city, priest 17.08.1996, elected coadjutor bishop of Anyang 28.04.2015, consecrated 04.08.2015 in Anyang with a papal mandate, consecrator Thomas Zhang Huaixin, Bishop of Anyang 08.05.2016 [30]
Born 15.03.1887 Lantzechan (Jehol), priest 1917, nominated Tit.-Bishop of Cotenna and Apostolic Vicar of Tsining 08.02.1929, consecrated 14.04.1929 in Rome, consecrator Cardinal Van Rossum [31], died 26.05.1932 Tsining [32]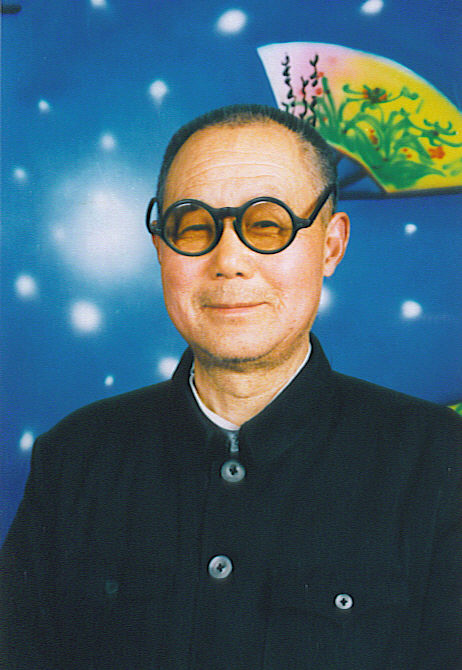 (Foto: sent by Bishop to author)
Born 01.03.1931, priest 01.03.1980, Coadjutor of Fengxiang, consecrated 06.01.1996, consecrator Lucas Ly Jing Feng, retired in 2010 [33]
Zhang Zuohuan (Chang Tso-huan), Vitus
Born 22.08.1903 Yungcheng (Tsaochow), member of SVD 1926-1962, priest 16.03.1930, nominated Tit.-Bishop of Eguga und Apostolic Vicar of Sinyang 08.07.1941, consecrated 08.12.1941 in Taikia, consecrator Mons. Schu, nominated Bishop of Sinyang 11.04.1946, emeritus 13.11.1949, nominated Tit.-Bishop of Ciane 13.11.1949, died 01.11.1982 Cologne/Germany [34]
Zhangxin, Benedict Bonaventura
(Foto: Archive Dr. Kierein)
Born 25.10.1911 Taiyuan, member of O.F.M. 1931, priest 1937 or 1938, Bishop of Taiyuan, consecrated 18.12.1981 in Peking, consecrator Joseph Zhong Huai-de, emeritus 1994, died 10.09.1999 [35]
Zhao Bide, see Zhao Zhendong
Zhao Duomo (Zhao Kexun), Thomas
Born 1924, priest 1951, Aux.-Bishop of Xuanhua, consecrated 17.02.2004, consecrator Wei Jingyi, nominated Bishop of Xuanhua 13.07.2007 [36]
(Foto: sent by Bishop to Dr. Kierein)
Born 14.06.1920 Jining, member of S.V.D., priest 22.04.1945, Administrator of Yanzhou 1992, Bishop of Yanzhou 00.12.1992, consecrated 18.05.1993 in Jinan, consecrator Joseph Zhong Huai-de, died 15.08.2005 near Tengzhou City [37]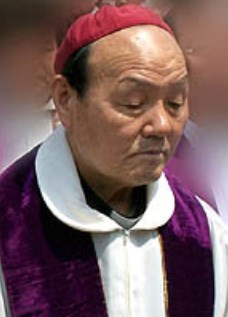 (Foto: UCANEWS)
Born 08.02.1934 Jining, priest 29.09.1985, Bishop of Yanggu 1999, consecrated 07.05.2000 in Liaocheng, consecrator Joseph Ma Xuesheng [38]
Born 1973, priest 2004, Apost. Administrator of Harbin December 2011 (Vatican-appointed) [39]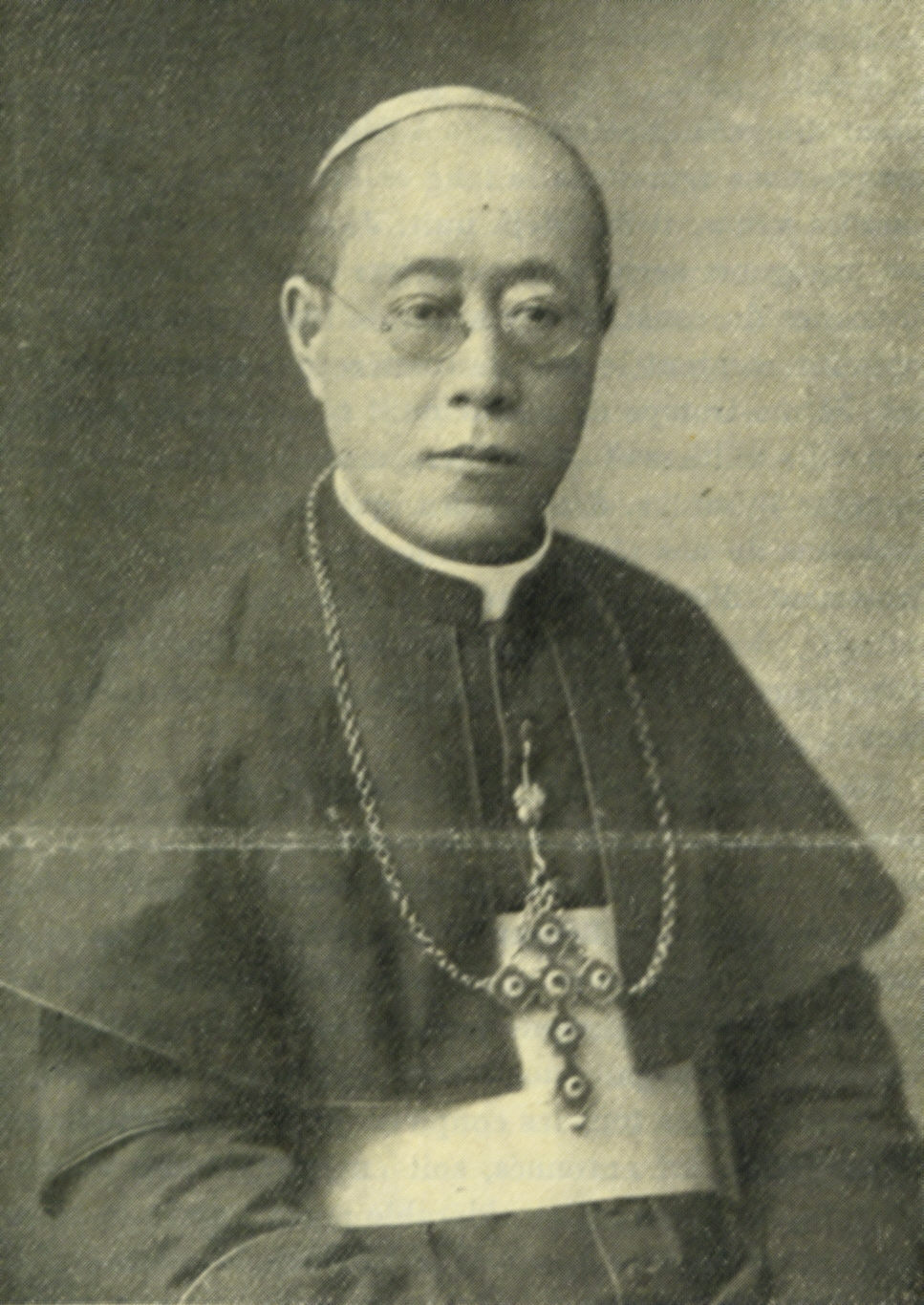 (Foto: Archive Perraud)
Born 04.10.1880 Peking, priest 27.02.1904, nominated Tit.-Bishop of Vaga and Apostolic Vicar of Suanhwafu 10.05.1926, consecrated 28.10.1926 in Rome, consecrator Pope Pius XI. [40], died 14.10.1927 Suanhwa [41]
Born (unknown date), grandnephew of Augustine Zhao Jingnong, priest, nominated Coadjutor of Tianshui 2011, not yet consecrated [42]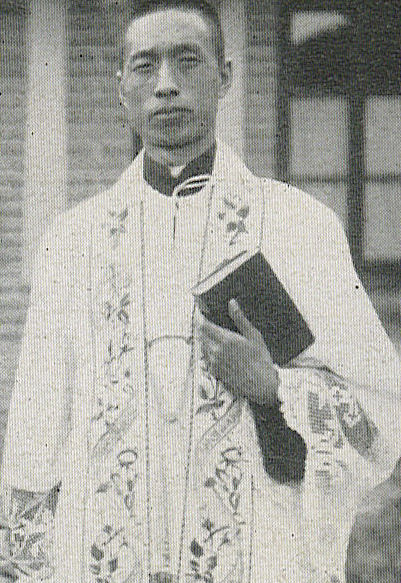 (Fotos: (1) Archive Brender, (2) Archive Kierein)
Born 29.06.1909 Chengxian, granduncle of Bosco Zhao Jianzhang, priest 22.05.1937, nominated Apostolic Administrator of Tianshui 1951, Bishop of Tianshui 1981, consecrated 24.07.1981 in Peking, consecrator Joseph Zhong Huai-de, died 16.05.2004 Tianshui [43]
Zhao Kexun, see Zhao Duomo
Zhao Qinghua, see Tchao, Lucas
Born 1909, priest 1936, Bishop of Jehol, consecrated 22.06.1958 in Jehol, consecrator Mons. Ignatius Pi Shu-shi, Bishop of Mukden 1984, died 08.03.1988 Shenyang [44]
Zhao Zhendong (Zhao Bide), Philip Peter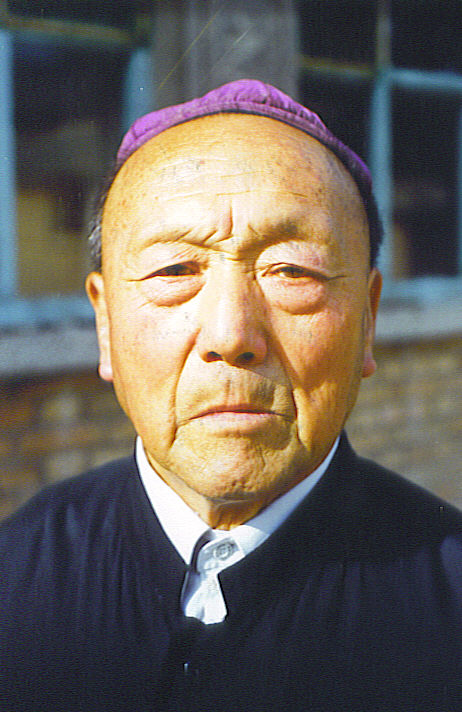 (Foto: sent by Bishop to Dr. Kierein)
Born 14.08.1920, priest 14.08.1949, Coadjutor of Suanhwa, consecrated 03. or 30.10.1989 in Baoding, consecrator Peter Liu Guandong, Bishop of Suanhwa 12.12.1999, died 13.07.2007 [45]
Zhao Zhensheng (Chao Cheng-shen), Francis Xavier
(Foto: Archive Perraud)
Born 30.11.1894 Kinghien (Sienhsien), member of S.J. 1913, priest 26.08.1923 or 1924, nominated Tit.-Bishop of Bisica and Apostolic Vicar of Sienhsien 02.12.1937, consecrated 27.03.1938 in Sienhsien, consecrator Mons. Cui Shouxun, nominated Bishop of Sienhsien 11.04.1946, died 15.10.1968 or 1970 [46]
Zhao Zi-ping (Chao Ziping), James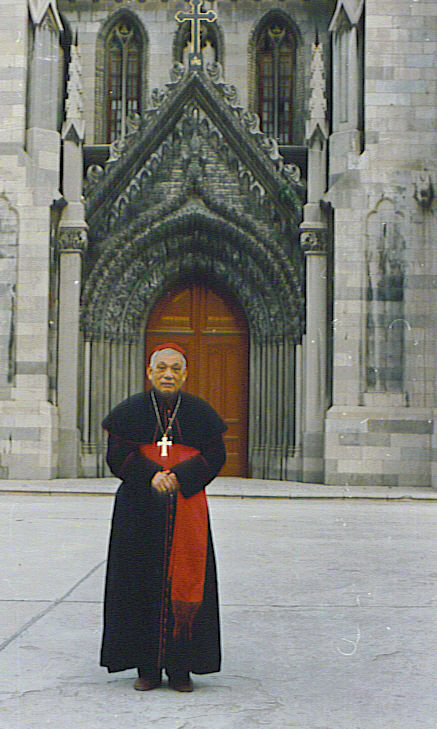 (Foto: sent by Bishop to Dr. Kierein)
Born 26.07.1911 or 23.07.1912 Manzhuang/Jinan, priest 25.08.1937, Aux.-Bishop of Jinan 1987, nominated Archbishop of Jinan 1988, consecrated 24.04.1988 in Tsinan, consecrator Joseph Zhong Huai-de, died 18.5.2008 Jinan [47]
Zhen Changcheng (Chen Changcheng, Tangtionsin), Joseph
(Foto: sent by Bishop to author)
Born 14.02.1913, priest 27.01.1937, 1955-83 in prison, Bishop of Fuzhou, consecrated 24.02.1991 in Fuzhou, consecrator Joseph Zhong Huai-de, died 18.12.2006 [48]
Born 17.03.1917 Taiyuan, priest 13.03.1949, Bishop of Xinjiang 1982, consecrated 23.09.1982, consecrator Francis Han Tingbi, nominated again Bishop of Xinjiang 13.03.1991, died 16.07.2006 Poli/ Xinjiang City [49]
Zheng Tianxiang, see Cheng Tien-siang
Zhong Changfeng (Zong Changfeng, Song Changfeng), Anthony
Born 13.09.1932 Nanyue Village, priest 29.05.1979, Coadjutor of Kaifeng, consecrated 13.06.1998, consecrator Liang Xisheng, emeritus 2008, died 22.11.2011 Nanyu Village [50]
Zhong Huaide (Sanyüan), see Tsong Huaide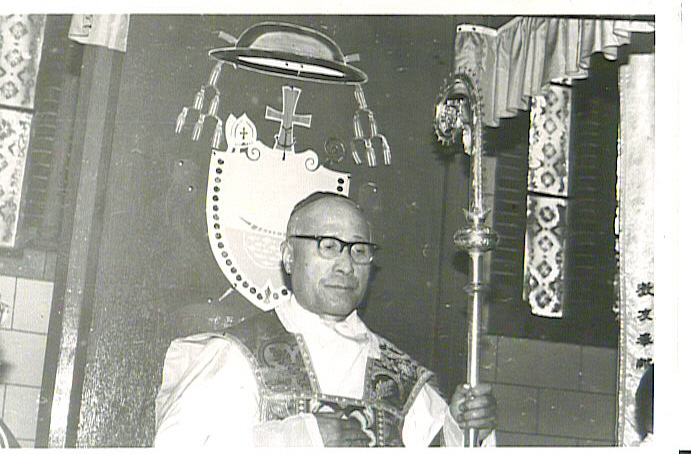 (Foto: Archive Dr. Kierein)
Born 16. or 18.05.1917, priest 25.04.1943, Bishop of Zhoucun, consecrated 01.06.1958 in Jinan, consecrator Mons. Ignatius Pi Shu-shi, Bishop of Jinan, retaining Zhoucun ca. 1978-1980, retired for Jinan in 1988, died 27.06.1997 Peking [51]
Zhong Huaimo (Tsung Huai-mo), Alphonse
Born 02.04. or 02.8.1904 Kuotsun (Luan), member of O.F.M., priest 19.04.1931, Bishop of Chefoo (Yentai) 14.06.1951, consecrated 29.07.1951 in Peking, consecrator Mons. Häring, died 1973 or 1975 Peking (suicide) [52]
Born 1921 Jakarta/Indonesia, priest 1948, Bishop of Meizhou, consecrated 07.05.1989 in Meizhou, consecrator Joseph Zhong Huai-de, died 28.01.2000 [53]
Zhou Fangji, see Zhou Shanfu
Zhou Jishi (Chow Chi-shih, Ceuziscee), Joseph
(Fotos: Archive Perraud)
Born 23.01.1892 Siaokwangyang (Tchengting), member of C.M. 1915, priest 29.06.1919, nominated Tit.-Bishop of Cratia and Apostolic Vicar of Paoting 26.03.1931, consecrated 02.08.1931 in Peking, consecrator Mons. Montaigne, nominated Bishop of Paoting 11.04.1946, nominated Archbishop of Nanchang 18.07.1946, died 1972 or 17.01.1977 [54]
Born 1911, priest, Bishop of Handan, consecrated 1960 [55]
Zhou Shanfu (Zhou Fangji), Francis
Born 1915, priest 1944, Bishop of Yixian, consecrated 16.06.1981, consecrator Peter Joseph Fan Xueyan, died 05.01.1989 [56]
Zhou Weidao (Chow Wei-tao), Anthony
(Foto: Archive Dr. Kierein)
Born 04.05.1904 Ta Ying Li (Chowchih), member of O.F.M. 28.12.1926, priest 18.01.1930, nominated Bishop of Fengsiang 31.05.1950, consecrated 01.10.1950 in Shanghai, consecrator Mons. Riberi [57], emeritus 1979/1980, died 14.02.1983 [58]
Zhou Yi-zhai (Zhou Yizhou), Joseph
Born (unknown date), priest, Bishop of Pengpu, consecrated 1958, consecrator Dong Wen-long, died 23. or 26.10.1983 [59]
Zhou Yizhou, see Zhou Yi-zhai
(Foto: UCANEWS)
Born 02.07.1921 Pushan, priest 1957, 1964-1967 he was sent to a forced labour camp, In 1981 he was sentenced to ten years in prison and re-education on charges of counter-revolutionary activity, released 1988, Coadjutor of Nanyang, consecrated 19.03.1995, consecrator Jin Dechen, Bishop of Nanyang 21.11.2002, emeritus 2010, officlially installed 30.06.2011, but the Holy See considers him as bishop emeritus, died 07.05.2020 Nanyang [60]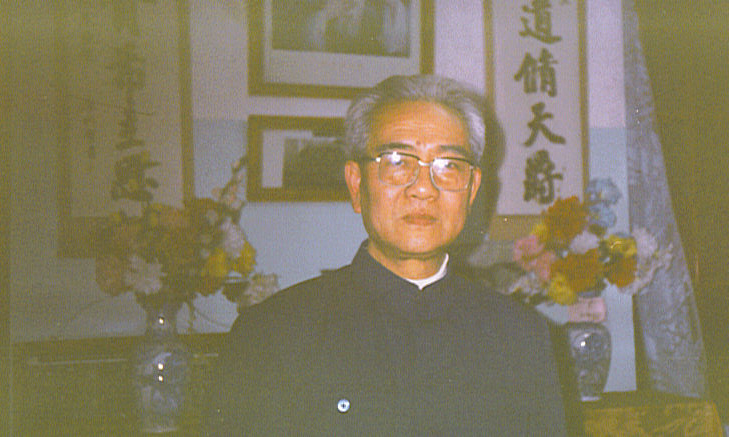 (Foto: sent by Bishop to Dr. Kierein)
Born 1932, priest 00.06.1955, Bishop of Hangzhou, consecrated 27.11.1988 in Shanghai, consecrator Aloysius Jin Lu-xian, died 12.12.1997 [61]
(Foto: www.vescovicinensi.net)
Born 1918 Weixian, priest 1947, Bishop of Bengbu 1983, consecrated 30.11.1986 in Peking, consecrator Joseph Zhong Huai-de, also Bishop of Anqing and Wuhu 1997, Bishop of Anhui 2001, died 26.02.2005 Hefei City [62]
Zhu Kaimin (Chu Kai-min, Tsu Kai-min), Simon
(Foto: Archive Perraud)
Born 30.10.1868 Shanghai, member of S.J. 1888, priest 28.06.1898, nominated Tit.-Bishop of Lesvi and Apostolic Vicar of Haimen 02.08.1926, consecrated 28.10.1926 in Rome, consecrator Pope Pius XI. [63], nominated Bishop of Haimen 11.04.1946, died 22.02.1960 [64]
(Foto: UCANews)
Born 10.12.1927 Yang'ao/Yongjia, priest 06.10.1954, 1955-71 in labor camps, 1982-1988 in prison, Bishop of Wenzhou November 2007, consecrated 10.01.2009, consecrator Gao Hongxiao, officially installed 23.11.2010, retired 2016, died 07.09.2016 [65]
Zhu Wen Han, see Zhu Wenyu
Zhu Weng, see Zhu Wenyu
Zhu Wenyu (Zhu Xiang yu, Zhu Weng, Zhu Wen Han), Andreas
Born 01.12.1919 Kulitu, priest 12.04.1957, Bishop of Chifeng April 1990, consecrated 28.10.1990 in Suiyuan, consecrator Joseph Zhong Huai-de, died 24.09.2006 Kulitu [66]
Zhu Xiang, see Zhu Wenyu
Born 1903 Xushui County, priest 1930, Coadjutor of Paoting, consecrated 1984, consecrator Peter Fan Xueyan ?, died 22. or 31.12.1988 [67]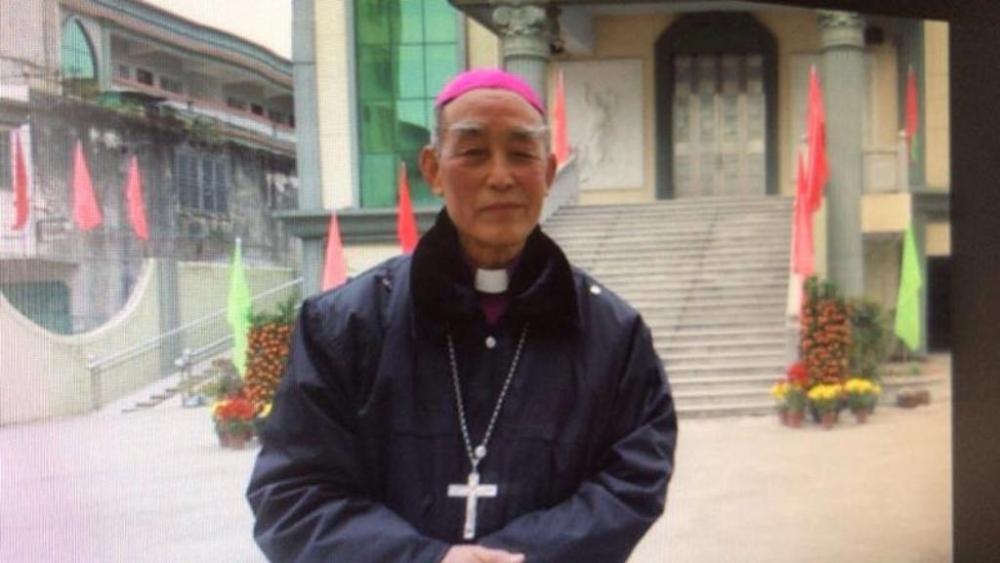 (Foto: La Stampa)
Born 1931, priest 21.12.1986, Bishop of Shandou 2006, consecrated 18.09.2006, retired 22.01.2019 [68]
Born (no date), priest (no date), appointed Coadjutor of Shandou by Pope Benedict XVI., not yet consecrated [69]
Zong Changfeng, see Zhong Changfeng
Zu Zhenjiang (Xu Zhenjiang), Paul
Born (unknown date), priest, Bishop of Shenyang, consecrated 24.07.1981 in Peking, consecrator Joseph Zhong Huai-de, died 22.06.1984 [70]
---
[1] Pietro Fumasoni Bondi (1872-1960), Prefect of the S.C. for the Propagation of the Faith since 1933, Cardinal 1933
[3] See Perraud, Eubel 8:257, Bibliotheca Missionum Vol.12:361; Planchet 1917:191, according to Bibliotheca Missionum Vol.12:361 born 18.5.1831; According to Eubel 8:257 born 12.05.1831; according to Eubel 8:257 nominated Tit-Bishop of Eleutheropolis and Coadjutor 07.08.1857, according to Eubel nominated Apost. Vicar of Hu-Pè in September 1862
[5] See PEM 152, Politi 2010:39, China heute 2014/2 (182), UCANews 19.11.2014, Agenzia Fides 22.04.2016
[6] See PEM 147, http://www2.fiu.edu/~mirandas/bios2006.htm#Zen
[7] See UCANews 11.8.2005; PEM 157, 182, www.asianews.it 8.1.2004, Politi 2010:49, Cardinale 2017:191, Vatican Bolletin 22.09.2018, asianews 13.12.2018
[9] See Perraud, Politi 2010:6
[10] See PEM 152, The Times 19.11.2005, UCANews 13.10.2005, Politi 2010:31
[12] See PEM 150, Politi 2010:39
[13] See letter of Bishop Jin Pei Xian to authors; PEM 155, UCA News 20.7.2009, Lam 2000/I:24, Lam 2005/I, Politi 2010:48, http://www.ucanews.com/diocesan-directory/html/dps-ch_jilin.php , Cardinale 2017:80
[14] See Politi 2010:25, PEM 152, Guide to the Catholic Church in China 2008:428, UCANews 09.05.2016; Fides 24.05.2016; http://www.ucanews.com/diocesan-directory/html/ordinary-of-china-anyang-diocese.php; Radio Vaticana 23.05.2016;
[15] See PEM 150; Lam 2000/I:21, Politi 2010:35, UCANews 24.5.1989; Lam 2005/I
[16] See Perraud, PEM 150, Politi 2010:18, according to Perraud he was consecrated 15.11.1959 by Ignatius Pi Shu-shih, Francis Chao Cheng Sheng and Zhou Yizhou, in Nanjing
[17] See PEM 152, 158, 181, Politi 2010:38
[19] See letter of bishop to authors; PEM 181, 162, Politi 2010:18
[20] See Lam 2005/I; PEM 152, Politi 2010:42, Cardinale 2017:203, according to several sources he became Bishop of Yixian
[21] See PEM 151; Lam 2001/II:250, Politi 2010:19; http://www.ucanews.com/diocesan-directory/html/ordinary-of-china-yantai-diocese.php; according to Lam he died in 1967, according UCA News he died in 1970, according to PEM before 1997.
[22] Carlo Cremonesi (1866-1943), privy almoner of the His Holiness, 1935 Cardinal
[23] See Perraud, Bibliotheca Missionum Vol.14 (3):15, Politi 2010:6; according to Bibl.Miss he was born 4.5.1899 and died 25.08.1940; according to Politi he died 23.08.1949
[24] See PEM 182, UCANews 11.8.2005
[25] See Politi 2010:48, UCANews 16.8.2019,
[26] according to several sources he is Bishop of Xinxiang. But Bishop Li Lian Gui writes in his letter to the author: "When Bishop Li Zhen Ron passed away in 1992, bishop Zhang Wei Zhu has been the principal leader of the secret church in Cang Zhou diocese."
[26a] See letter Bishop Li Lian Gui to authors; PEM 160, UCANews 6.8.2001, Lam 2005/I, Politi 2010:41; Cardinale 2017:203, according to UCANews the consecration was in 1990 by Wang Milu in Xianxian, according to Lam the consecration was in 1992, according to Cardinale the consecration was on 27.11.1991. But Bishop Li Lian Gui told the author, that the consecration was on Oct 27th 1991
[27] See Lam 2000/I:76; PEM 150, UCANews 8.1.2003, Politi 2010:24
[28] See UCANews 07.02.2012, MEP Article 14.2.2012
[29] See PEM 175; Osservatore Romano, 30.5.2008; UCANews 03.05.2004 and 20.05.2008, Politi 2010:52,
http://www.ucanews.com/diocesan-directory/html/ordinary-of-china-jinan-diocese.php
[30] See UCANews 30.4.2015, 31.07.2015, 04.08.2015, 09.05.2016; asianews.it (04.08.2015)
[31] Willem van Rossum, C.SS.R. (1854-1932), 1911 Cardinal, since 1918 Prefect of the S.C. for the Propagation of the Faith
[32] See Perraud, Bibliotheca Missionum Vol.14 (3):15, Politi 2010:5
[33] See letter of the bishop to the author, UCA News 23.05.2011, Cardinale 2017:200
[34] See Perraud, Bibliotheca Missionum Vol.14 (1):339, Politi 2010:8, website find a grave
[35] See PEM 149, 150, 152, 156; UCANews 20.9.1999, Politi 2010:25, Lam 2005/I
[36] See UCANews 17.7.07, Politi 2010:52, Lam 2005/I:85, Cardinale 2017:188
[37] See PEM 151, 152, 153,182, Lam 2001/II:247, letter of Bishop Zhao to the authors
[38] See PEM 159; Politi 2010:49
[39] See UCANews 6.7.2012, asianews 04.07.2012, Cardinale 2017:203
[40] Pius XI., Achille Ratti (1857-1939), since 1922 Pope
[41] See Perraud, Bibliotheca Missionum Vol.14 (3):16, Politi 2010:4
[42] See UCA News 11.01.2012
[43] See PEM 133, 175; UCANews 20.5.2004; Lam 2000/I:102; according to Lam he was ordained in 1940
[44] See PEM 132, 150, 209; Lam 2000/I:21; Politi 2010:14, according to PEM 132 the consecration was 25.6.1958
[45] See letter of Bishop to authors; UCANews 17.7.07, Politi 2010:38; Lam 2005/I; PEM 152, 159
[46] See Perraud, Bibliotheca Missionum Vol.14 (1):587, Politi 2010:7, http://www.bdcconline.net/bdcc_stories/china/hebei/zhao_zhsheng.html; according to bdcconline he died in prison in 1968
[47] See letter of Bishop to authors; UCANews 20.5.2008; PEM 147, 150; Lam 2001/II:240; Osservatore Romano, 30.5.2008; Politi 2010:34
[48] See letter of bishop to authors;Radio Vatikan online (german issue) 27.1.07, Politi 2010:40; PEM 131, 134, 150; Cardinali 2017:52; Annuario Pontificio 2007:1178; according to Annuario Pontificio he was bishop in (not of) Fuzhou
[49] See UCANews 27.7.2006;Lam 2005/I; PEM 152; Politi 2010:28; according to Lam and PEM 152 born in 1916
[50] See UCANews 11.10.2007, 1.12.2011, Politi 2010:48, Fides 07.12.2011
[51] See PEM 150, Politi 2010:14, according to PEM 150 he became Bishop of Jinan around 1980, according to Guide to the Catholic Church in China 2008:479 he became Bishop of Jinan in 1963
[52] See Perraud, PEM 132, 150, 151, Politi 2010:12
[53] See PEM 116, 137, 150, 159
[54] See Perraud, Bibliotheca Missionum Vol.14 (2):71, Annuario Pontificio (1934), Politi 2010:5, http://www.tboyle.net/Catholicism/Chinese_Bios/Chou.html; according to Annuario Pontificio he was born 08.11.1891; according to tboyle the consecration took place in Paoting; according to tboyle.net he died in prison;
[55] See Politi 2010:19, Guide to the Catholic Church in China 2008:84; according to the Guide he was administrator of Handan 1964-80
[56] See PEM 151, 181; Politi 2010:23
[57] Antonio Riberi (1897-1967), 1946-51 Apost. Nuncio to China, 1967 Cardinal
[58] See letter Bishop Ly to authors; Perraud, Bibliotheca Missionum Vol.14 (1):158, Politi 2010:10; according to Bibl.Miss. he was born in Ta yin pao/Sianfu
[59] See letter of Bishop Zhu Hua-yu to authors; PEM 150, 152; Politi 2010:16
[61] See letter of Bishop to authors, PEM 118, 151, Politi 2010:35
[62] See PEM 178; AsiaNews 3.7.2001, letter of the bishop to authors
[63] Pius XI., Achille Ratti (1857-1939), since 1922 Pope
[64] See Perraud, Bibliotheca Missionum Vol.14 (1):594, Politi 2010:4
[65] See UCANews 23.12.2010, PEM 204, information of Father Politi, KNA Informationsdienst No 22 (1.6.2016); AsiaNews 07.09.2016; http://www.lastampa.it/ (21.09.2016)
[66] See PEM 148, 150, 151; UCANews 28.9.2006, Politi 2010:14; letter of the bishop to the authors; letter of Bishop Guo Zhengji to authors
[67] See PEM 151, 181; Politi 2010:30
[68] See UCA News 12.05.2011, 14.07.2011, 25.1.2019; Guide to the Catholic Church in China 2008:338, Cardinale 2017:192, Asianews 13.12.2018, UCANews 25.01.2019
[69] See UCANews 25.01.2019
[70] See PEM 132; Lam 2005/I ; Politi 2010:24; according to Lam 2005/I he died in July 1984